Translate this page into your language using Google Translate Bar below
Dreams : Language of the spirit world
Dreams, what are they ? Illusions, a useless byproduct of brain activities, messages about ourselves from the subconscious mind to our conscious mind or are they more then just that ? In Dreams...Language Of The Spirit World, we will explore the realm of the dream world and explain what dreams really are and who's behind them and for what reason ? Then we will examine the different types of dreams and how to translate them. After that, we will take on real actual dreams collected in person from people over the years from different backgrounds and countries then translate them. Afterward, we will move on to some populaire biblical dreams and translate them as well, using the same techniques found in this book for modern-day dream translation.
Please click here to read some dreams from the public translated by Patrick Zakhm using the technique found in his dreams book
Analyzing dreams takes a lot of time and breaking through the language of symbolism and metaphors that dreams are made of is a gift in itself. From his prophetic naps, Patrick Zakhm learned for over 16 years how to decipher the created perceptions we all encounter in our dreams. According to him, everyone can understand their dreams if they read carefully the content and know how to look at it. The technique used in his book in analyzing dreams should not be mixed though or compared to other techniques found in other dream analysis books, because if that was done then the whole point will be missed and what we will end up with is only confusion and misunderstanding. As you know, one cannot write a book on how to speak English or French or Italian or Spanish or any other language unless the Author speaks that language. And so are dreams, dreams are a language that was forgotten and lost over time to the material way of looking at our world today.
Haunted Places
As a Paranormal Investigator and a Sensitive the author share with the reader what his investigations of haunted buildings over the years have taught him about ghosts. His experiences have brought him the light to understand other phenomenons in life that are understood superficially and taken for granted. Ever wondered what really is a intuition? What is a gut feeling? what are Chakras? What is a meditation and how can we meditate properly? What is temporary sleep paralysis that some people experience sometimes right after waking up? what are panic attacks? What are phobias? What are Orbs? What is a Psychic? What is a Sensitive? What is a Medium? What are ghosts? What are spirit guides and do we all have them? Why are some people sensitive to ghosts and others not? And is death the end? Do we really just vanish when we die?
- This book was recommended by Aurora (a good friend of Patrick Zakhm): "Patrick is truly an inspiration. He has been an amazing and generous mentor to me in both the paranormal and spiritual fields. The never-ending wisdom he has shared with me over the years helped me not only in learning & developing paranormal investigation techniques, but in helping me to recognize and develop my own mediumship gifts. He has a unique and profound gift of discernment like no other, with both the living and non-living, and is able to see deeply into the true nature of anyone who crosses his path. He is a very talented sensitive with a range of spiritual gifts. He is also a very talented manager, managing people with a cool head in every kind of situation. Patrick is a great leader and has mentored many, many other paranormal investigators in the course of group investigations, who have gone on to lead their own teams. His book "Haunted Places" is a must read and essential resource for anyone who wants to know more about the paranormal. I have never met anyone like Patrick. He has a brilliant mind and a great sense of humor. I am honored to call him my friend."
Buying these books
The newly released book "Dreams : Language of the spirit world" is available through the publisherwww.Lulu.com, which offers Prints and download options. It can also be found in major worldwide online bookstores, like www.amazon.com, amazon.fr, amazon.de, amazon.ca, amazon.co.uk, amazon.jp, alibris.com, sprintbooks.com, bookfellas.com, thebookplace.com, whsmith.co.uk, tesco.com, indigo.ca, barnes&noble.com, booksamillion.com, abebooks.com and many other online bookstores.
"Haunted Places" is available in major online bookstores. Please do a book search on www.bookfinder4u.com to choose your bookstore.
About the author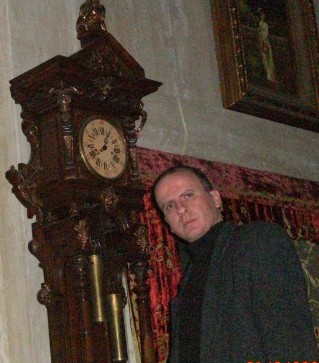 Patrick Zakhm is a French Citizen born to a French mother and a Lebanese father in Beirut, Lebanon. Patrick has always been interested in ghosts and the paranormal field. Then one day his interest peaked some more by a message received from a medium. The medium(supposedly a complete stranger)gave him a message from a dead relative. According to him, this medium lady did not fit the fake type category and also she was giving messages from beyond the grave for free. She was talking in a manner that one would normally see when two people are engaged in a conversation, one is talking and the other is listening and paying attention and she was the listener, this is how it felt and the ambiance she was projecting around her. At first he did not believe what he was being told and only took notes. Then later on after researching the past and questioning his family that things became clear to him. The medium was seeing somebody else while looking at him. And there's no way a complete stranger would have know all these private info like that unless he really was receiving them by whoever was the medium seeing , invisible to us but visible to the medium. After that experience he started reading on how to meditate and with time he learned the right way, the proper way, by listening to what is comfortable and what isn't to him, which appeared as a inner guiding voice that took the form of a feeling. And that led him to where he has arrived to right now. But why he concentrate mainly on ghosts is still something of a mystery to him. He said that it could be because he can see and feel the agonies and the states ghosts get stuck in and no one is helping them or even acknowledging their existence.
Patrick Zakhm Spiritual And Paranormal Services can be found here
Patrick is located in Montreal, canada and can be reached through the link below.