Priest with strange light behind
This came from a friend in France. His friend took this picture couple of years ago and he is surprised by what he caught. According to him there was no light in the back in the background until the priest put his hands on top /above the little girl's head, then the light appeared during this time. What is more strange is that the priest died few months later, killed by a thug.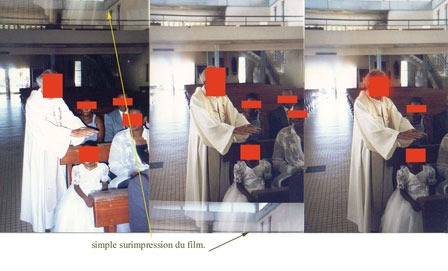 This page can be translated to other languages using Google Translate Bar below
CONTRIBUTIONS to this site are always welcome. Please email Patrick Zakhm regarding that, Thank you.
MPI investigations & photographs
Australia
Belgium
Canada
Egypt
France
Germany
Hong Kong
Lebanon
Madagascar (island)
Switzerland
United Kingdom
United Arab Emirates(UAE)
United States Of America
Hawaii
Submitted photographs
Canada
France
Lebanon
United Kingdom
United States Of America
To submit photographs for this site, email .